Wednesday, October 30, 2013
For those of you who know, I come from a family of dentists. My parents were pretty much the scrooges of Halloween. In fact, this scene from

Charlie and the Chocolate Factory nearly reminds me of my childhood trick or treating.... only without all the headgear! The mere mention of a sugary treat was quickly followed with "That'll rot your teeth". While most children feared things like monster's in their closet or boogiemen, I grew up living in fear of cavities. Yes, Halloween was indeed a scary time for me!
Like poor little Willy Wonka, I felt robbed of my hard earned treasures, but now as a parent I can see it was all well intended. So in the spirit of being festive and finding a common ground, why not display these special treats in more than a plastic pumpkin from the dollar spot?
I love this DIY centerpiece from Room to Inspire. I am creeped out by crows (and seagulls, but that's another story) so this one sitting atop a jar of black licorice gives me the willies in a good way, you know, because he's stuffed. The candy corns add just the right touch of color.
Speaking of candy corns, I love this display along with the jumbo marshmallows. That gorgeous shimmering mosaic tile backsplash is winking hard at me too.... right back 'atcha babe.
I'm also digging this more traditional vignette from The House of Smiths, which has just enough pop of festive color in the right places. The creative labeling is what makes Halloween really come to life... or in this case should I say, death?
This curio from
Torie Jayne
is also a fabulous fresh take on Halloween... in fact, it's killer! Why not channel your inner witch, wave your magic wand and make it a hot pink Halloween?! Here you could use color foil wrapped candy like Hershey kisses, or colored candies like M&M's to get this same look but in an edible version.
And since I will pretty much be disowned for this artful tribute to pure sugar, I will leave you with these adorable little jack o' lantern tangerines which are a more healthful, yet still festive option, for those of you looking to stay out of the dental chair this year.
Wednesday, October 16, 2013
I was honored to have one my projects featured on the cover of OC Home this summer. Here is the online link to the article. Be sure to check out the photo slideshow as well!
Be bold, and your house can be beautiful
Monday, October 14, 2013
Now that fall has arrived, I have been having a major crush on deep jewel toned hues for seasonal accent decor. We often think of fall color and venture down the road of a warm golden toned palette that echoes the season, but why not explore some deep indigos, fuschias and emerald greens?
Indulge me here because I'm about to take the fall color wheel for a spin. Here are some ideas of how you can create an updated and inspired fall look at home.
This gorgeous table display from my long time fave,
Domino Magazine
mixes in a gorgeous magenta harvest. Berry tones are great way to shake up, yet still compliment fall color. Good to have you back Domino, we have missed you!
My heart skipped a double beat at the site of this amazing plum and copper inspired fall wedding from event planners The Noveau Romantics. The guinea fowl feathers add just the right edge, yet give the look a cozy vibe. Gorgeous!
Still married to fall? You could pair some of fall's gorgeous golds taking inspiration from this peacock color palette from
Design Seeds
This textured gold wall accent from
Twos Company
is a great balancing act to accompany their indigo toned chevron mirror.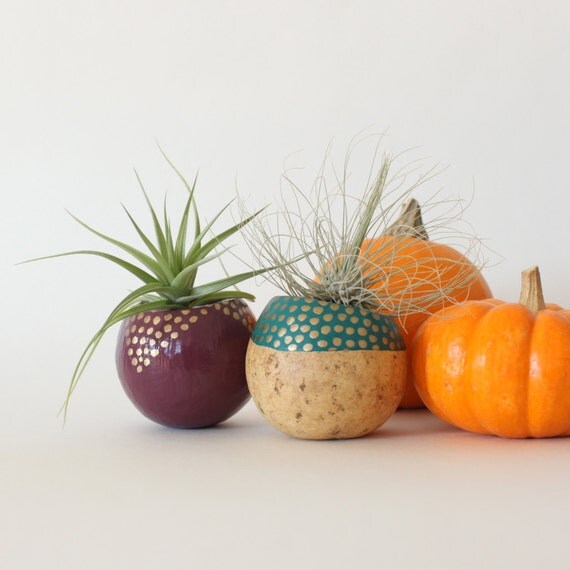 And check out these turquoise and plum handmade planters from ThriftedandMade. What delightful little treasures they are, adding just the right touch of color and wispy greenery to your home.
Don't be afraid to take some risk, the key is to balance bold color with neutrals. A little pop of color goes a long way!