As promised, here is Part 2 of my best designed holiday traditions....
Since becoming a mother, it finally occurred to me that there has been a subliminal passing of the holiday tradition torch. By that, I mean that I never really claimed it. All I did was give birth and now I'm in charge of creating family traditions! Who me? Yikes, that's a tall order! But it made me realize that much like designing a home, designing a lifestyle for your family that is rooted in tradition both old and new is just as central to who you are as your living space.
Now that the holidays are here, I've been giving some thought to creating or passing down long lasting traditions for my own family and what I'd like to do to create meaning, togetherness and fun. With that in mind, I came up with a handful of ideas that don't involve creepy holiday elves, a glue gun or an abnormal amount of tinsel.... enough of the reindeer games, ain't nobody got time for dat!
1. AN INSPIRED ADVENT


Sorry, but there is so much more to the season than those advent calendars filled with cheap chocolate. I don't even want to know the shelf life on all that nuclear candy inside. The advent is such a terrific way to ramp up holiday spirit, especially for the little ones. Here are several examples to engage the whole family.

Starting on December 1st, remove an ornament from the bag corresponding to the day and hang one up each day on the tree. You could hang them on the mantle as shown or place them in a decorative basket.
House and Home
You don't have to be limited to ornaments. You could instead have advent cards and hang them on a tree like this from
the red thread
. I love that this is chic, easy to do and doesn't take up room space or require storage post-Christmas. Get the free printable download
here
.
As you hang each daily card the back could feature a craft or recipe the whole family can get in on. If you simply don't have the time (and I completely do not!) you can arrange for a family outing to look at neighborhood Christmas lights or enjoy a favorite holiday movie night in. If you're attached to treats, you can leave a clue to where one is hiding around the house and make it a mini scavenger hunt! The ideas are endless. In the most simplistic sense, you could hang numbered tags and post an inspirational quote, a little love note or scripture. Whatever touches your heart, brings your family together and is realistic for your lifestyle! Can I get an 'amen' to that?
2. NORTH POLE BREAKFAST
Another way you can officially kick off the season is to have a North Pole breakfast. This year it falls on Sunday which makes me happy because we can all lounge and relax! If you have children, set the table for fun and make snow covered pancakes (powdered sugar) and hot cocoa with snowballs (marshmallows). If it involves food, I promise everyone will join in the fun!
If you do the whole Elf on the Shelf tradition, you can have your elf make his grand entrance at breakfast. I have to admit, I think the idea is adorable, but I have not committed to the Elf hook line and sinker just yet. When I do though, I think this is a fabulous representation of a picturesque North Pole Breakfast with the kids from
Hello Love Designs
.
3. "HOARDAMENTS"
Normally just hearing the word "hoard" gives me anxiety, but Christmas ornaments are the exception to the rule. One tradition I keep every year is to give my son an ornament for our tree. He's really into trains as of late, and vehicles in general, so each year I try and give him something he currently loves. Each year it's fun to take out the past ornaments and see how his tastes have evolved... or haven't! Here are a few that I've had my eye on...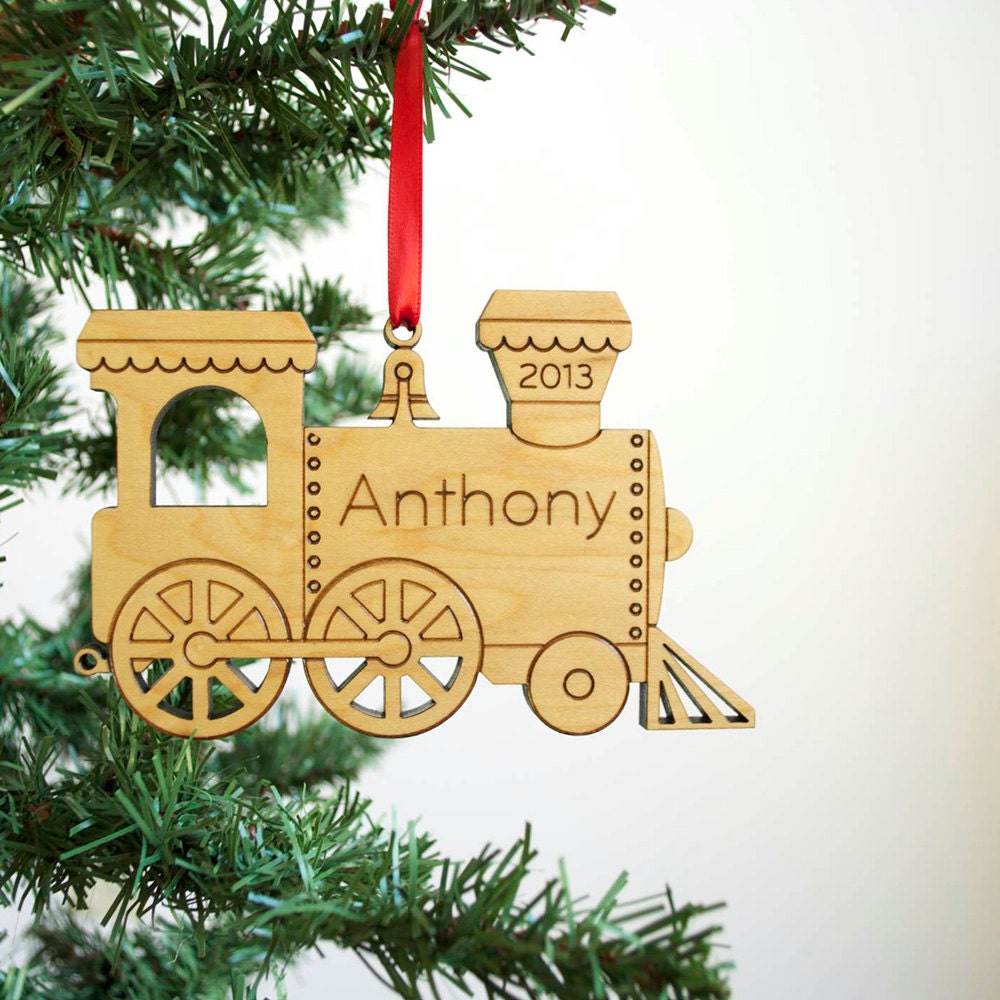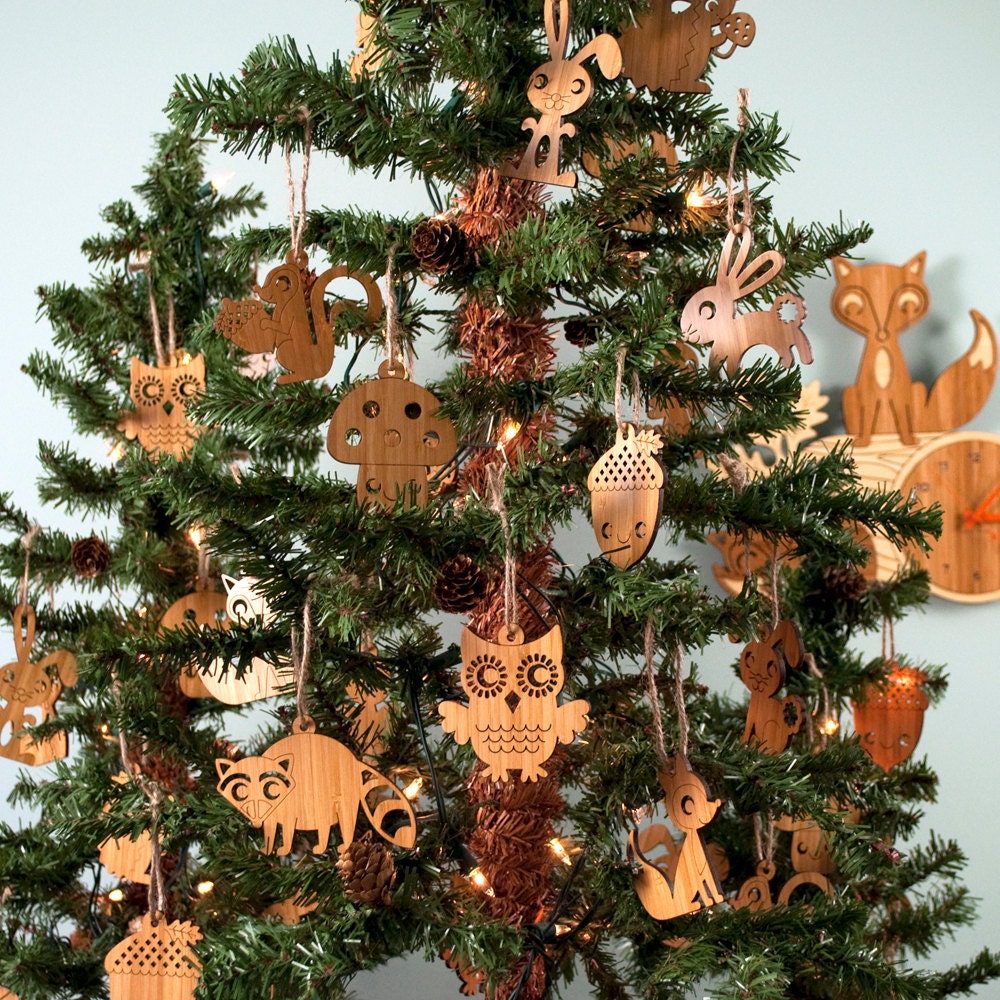 So much wooden whimsy going on here from
Graphicspacewood
I can't resist the lighthearted chic that these animals add to the tree from
Jonathan Adler
These are one part glitz and one part vroom, a match made in heaven from
Pottery Barn Kids
You could also have your children paint their own ornaments. The little one's handprints make fabulous reindeer and special memories as they grow.
Fingerprint reindeer
4. A SIGNATURE DISH
What's your go to holiday dish? Growing up, no matter the menu on Christmas, we always ALWAYS had my Grandmother's lasagna. This dish took center stage at many family dinners and holiday occasions, and it has left a long lasting reminder of being together in good health and good cheer. Now that I am the one handling the bulk of the cooking (and baking!), here is one of my go-to faves. This
recipe
for Triple Chocolate Chip cookies from Williams Sonoma's
Essentials of Baking
are hands down my favorite chocolate chip cookies.
5. GIVE BACK
'Tis the season of giving after all. While the opportunities to give your time or money are endless, the most important part is that you do something together as a family and teach your children about the importance of helping others. One clever and easy way to get children involved is to have them place a large bag for Santa under the tree on Christmas Eve. Have them fill it with toys that are still in good condition that they no longer play with but that other children may like to have. Santa will pick up these toys and replace them with new toys. It's a great way to declutter (hallelujah!) before Christmas while teaching children about giving.
The best designed traditions are the ones that create a sense of belonging, establish roots and most importantly, are downright fun! What holiday traditions have you created in your home? Share your ideas!