Fact: I might be a designer, but labor intensive DIY projects, especially around the holidays make me crazy! It's not that I don't have the inspiration or creative ideas, it's simply because I live in the real world and lack the time, especially now that the holiday season is in full swing. You with me? It's ok, I'm at peace with it, because I have some simple solutions to decorate using things you probably already have, in your home or yard. Best part is, you don't have to hoard one more freakish looking elf or bushy strand of garland in your attic. The neat freak in me approves of this big time!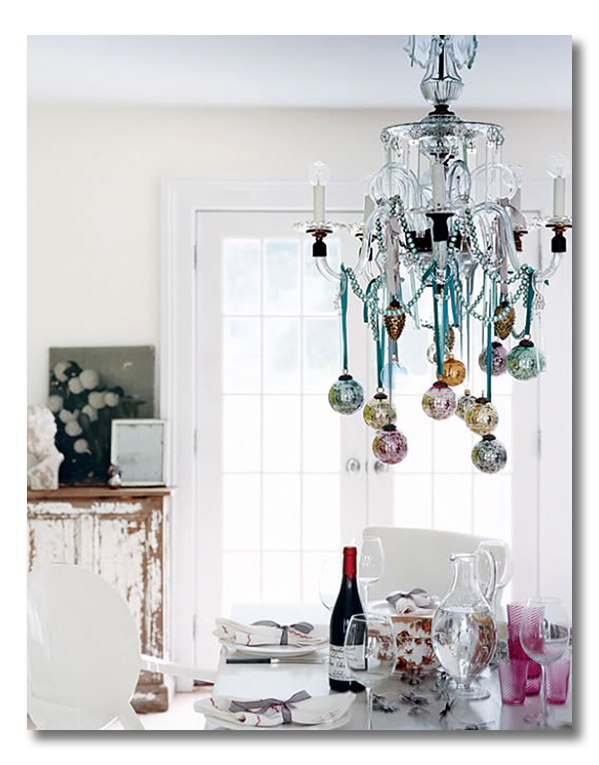 Most of us have extra ornaments and ribbon laying around. Just tie them together, hang from your favorite
chandelier
, add a strand of beads and voila! Even if you just have the ornaments, you can achieve a similar look by dangling them directly from a lighting fixture. Easy, simple, magical!
Still have mas bling? You can easily fill a hurricane vase or lantern with extra ornaments as well.
Put those extra christmas lights to use and fill an empty wall space with an
alternative christmas tree
I love how the christmas lights elegantly illuminate these
gorgeous glass candlesticks and trees
. Candlesticks should have a reason to come out and play when you're not entertaining, and here they take center stage on the mantle while the lights add that special sparkle and glow that captures their unique facets and texture. Simple and elegant!
And speaking of glass, here are some great
natural displays
for your home. All you need is a glass container and some outdoor inspiration. If you're already indulging in holiday treats (guilty as charged) a neighborhood walk does wonders for both the mind and body! So let's bring a little nature home....
If you prefer a little pop of holiday cheer, here are some colorful natural accents from
frenchlarkspur.blogspot.com.au
. If you have some empty bottles (vintage a plus!) a few winter berry sprigs go a long way. I love the clever idea of blending red and golden apples with a handful of pine cones too. Seasonal and simple, yet refined!
Whether you prefer a more glam look to your holiday season, or au naturel, the inspiration is endless.
The less time and money spent on these types of projects equals less clutter in your attic, but best of all, it means more quality time with family....which is what the season is all about! I'll cheers to that!